TPP Official Updates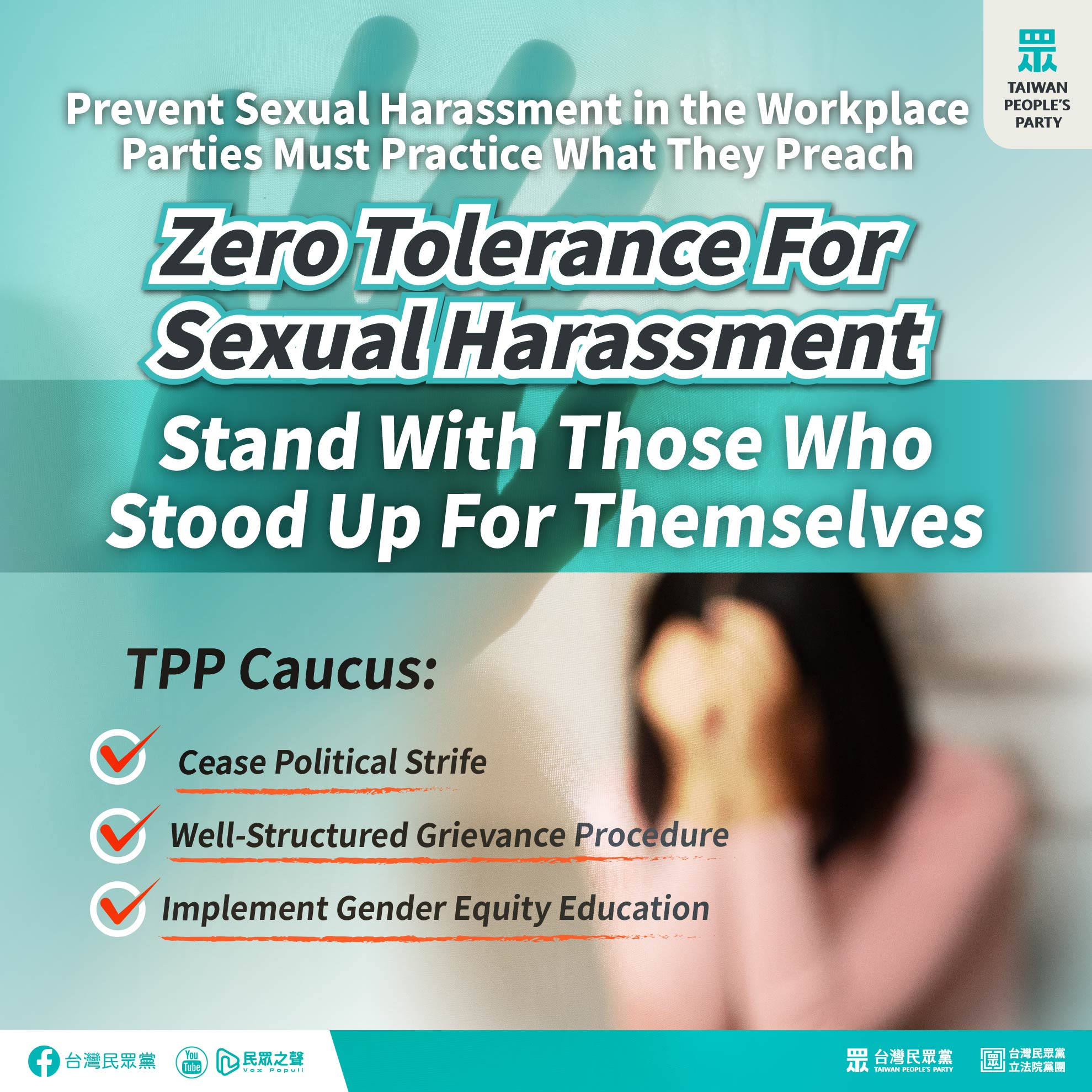 【Zero Tolerance For Sexual Harassment】 Standing With Those Who Stood Up For Themselves
Sexual harassment is an excruciating and unspeakable experience for many victims. It should not be used as a tool for political strife. Efforts to eliminate abuse of power and implement sexual equality education should be multi-partisan. Not only is it necessary to establish a transparent grievance process for reporting inappropriate behaviors, but it is also crucial to provide adequate support for victims.
In the past week, there have been over ten cases of sexual harassment, including victims from various fields, including politics, arts, and media. This indicates that sexual harassment in the workplace has become a widespread social issue. Many victims, concerned about damaging their social and economic status or facing secondary victimization, choose to remain silent, leading to a significant number of unreported cases.
Our biggest enemies are low gender awareness and a deranged power structure and social system that support sexual violence. We must not let sexual harassment cases become political bargaining chips and should find pragmatic solutions.
The TPP Caucus promptly established a "zero-tolerance" policy on sexual harassment in its first year in the Legislative Yuan. Each committee office has also established measures for preventing and addressing sexual harassment, as well as procedures for complaints and disciplinary actions. We hope to set an example and provide a safe and comfortable working environment for everyone.
We aspire to create a society where victims are not blamed, shamed, or made to feel guilty. It is crucial for all sectors to show empathy towards victims while creating safe spaces. Urgent actions, such as legislation to protect victims of sexual harassment and extending the statute of limitations, are needed.
We express our deepest respect to all brave victims who have spoken out. You are not alone! The commitment to "zero tolerance for sexual harassment" transcends all parties and genders. The TPP Caucus will stand firmly with the people and act as a solid support for victims.