TPP Official Updates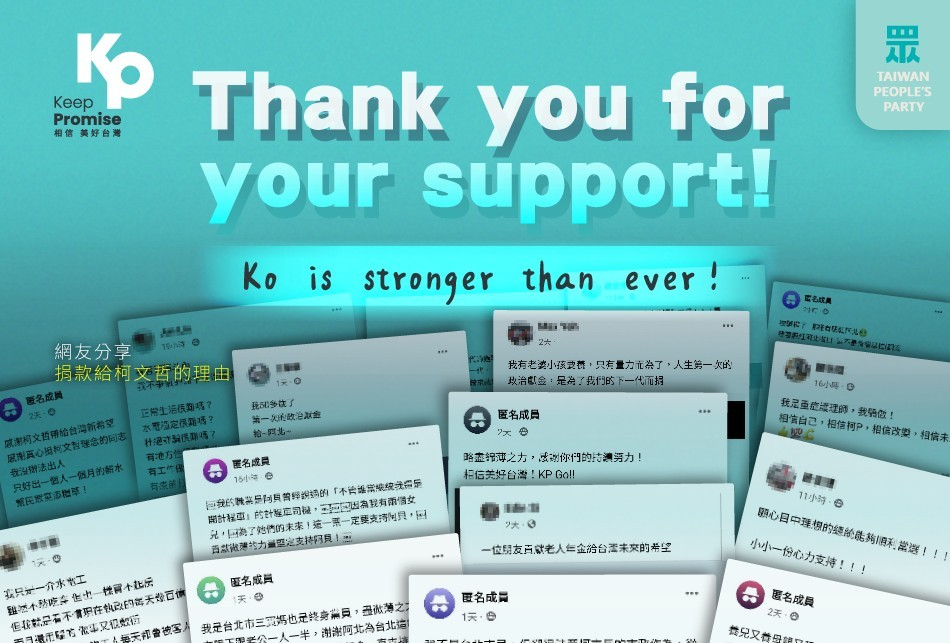 Thank you for being here and changing Taiwan's future with us!

Unlike the blue or green party, the Taiwan People's Party does not have a vast amount of resources, but what we have is you and your staunch support. Thank you to those who have stood firmly by us since 2014, supported us wholeheartedly in 2020, and joined us enthusiastically in 2022. We deeply understand that every bit of support is not taken for granted but comes with great expectations for a better Taiwan. It is our great honor to have you stand by us.

Though the power of each individual is limited, the combined power of individuals is infinite. Within the first three hours, we have raised over 10 million NTD from small donations and over 70 million NTD in total. Words cannot express our immense gratitude. We will remember every single support received, and use every dollar carefully and responsibly.

Thank you for joining forces with us, we earnestly ask our dear friends to continue to contribute within your means. You can also take non-monetary actions such as making ten phone calls to friends and family to promote Ko Wen-je, or sharing this article to encourage more individuals to step forward and build a #harmonious society. We hope for party reconciliation in Taiwan, and a peaceful Cross-Strait relationship.

Ko Wen-je will exert all his efforts to restore people's faith in an inclusive society. Not only will he abolish slogan-based governance, avert leaving debts for future generations, but also minimize animosity and division between parties.

Thank you again to each and every one of our dear friends for your affirmation.

We shall witness changes in Taiwan!